There are so many different binding methods for your documents. Binding is the term used to describe how the pages end up getting stuck together. A staple is perhaps the simplest method to bind a document. Another simple solution is to use a display folder, but this is technically not binding. This post will cover five different binding methods for your documents that aim to level-up the professionalism.
Different binding methods for your documents
Saddle-Stitch (staple)
You'll most often see saddle-stitch on thinner documents. For example, a catalogue or a multi-page brochure. This form of binding is essentially where the pages are folded in half and then stapled on the newly created spine. Because this is a staple, there are limits to how many pages can be saddle stitched. This method of binding might look simple, and it is, but setting up for printing is more complex. This is because each sheet of paper now contains four pages and you have to get the page order (pagination) correct. If you don't get the page order correct, they will not appear in order once folded. This is a fairly durable form of binding. Finally, you can always include a thicker first page for extra durability.
Coil-binding
I'll group coil and wire binding together in this explanation. With coil-binding holes are punched in all the sheets of paper. Afterwards, either a plastic comb or a wire coil will be used to create a spine. Now all the pages are joined together with the coil. The plastic combs are the least durable and do tend to crack. The wire comb style are the next durable, these tend to get crushed which prevents the pages from opening. The coil (made of plastic) tend to be the most durable. The coil is wound through each of the holes and doesn't crush or crack as easily. The bonus of coil binding is it is cheap and the machines are available for offices. So you can so this one yourself.
You'll often see this form of binding being used on workbooks and diary/journals because the pages lay flat. This makes it easier to write in. It is often compromised against durability for ease in use. You can also use thicker card for covers along with plastic covers to improve durability.
Padding (glue)
Sometimes you want the pages to stay together enough but be easy to tear away. This is where padding comes in useful. You'll see this on things like a shopping list or note pads at conferences. Another place you've likely seen it is in a hotel room. Forms, checklists, invoices are all other places where it might be useful to use this form of binding. It is something you want to get arranged at a print shop. They will be essentially gluing all the pages together along that edge. It is a special formulation of glue so don't try this at home.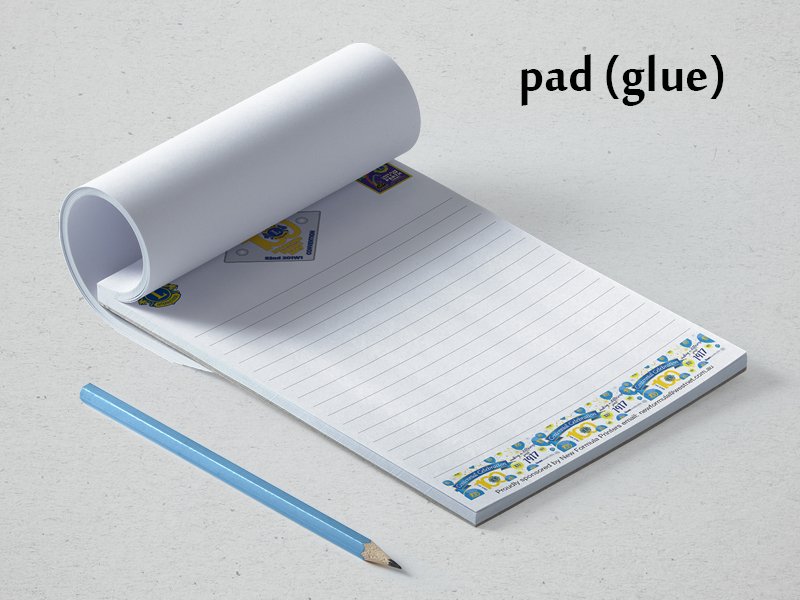 Hardcover (stitch)
Hardcover binding is commonly used for books, especially textbooks. This is where groups of pages are folded together and then stitched. Then many of these small bits of stitching are then stitched together and glued into the cover. The covers are made of a very stiff cardboard. The printed image is then wrapped around and glued to the cardboard. This is the most durable form of binding. It is also the most expensive as it is labour intensive.
Perfect binding
Of all the different binding methods, perfect binding is perhaps the most common and professional looking. You'll have seen this on reports and magazines. It is essentially pages glued together along the spine with a cover made of single sheet of paper that wraps around. The cover starts at the front, wraps around the bind along the spine, and then wraps the back. The cover is normally a bit thicker than the internal pages.
This binding method requires specialised equipment. However, most print shops will be able to do this for you. There is no tricky pagination to consider. Depending on the page count, you'll even get a nice spine along the edge where you can put the name of the document. This form of binding will never lie flat. Because of this, make sure you leave lots of space in the binding edge (gutter). If you don't leave plenty of blank page in the binding edge, then text can get lost in there.