Not all logo filetypes are the same! This article will discuss some of the considerations. Key takeaway is that you should be getting the correct filetype from your graphic designer. You've paid for it.
Raster and Vector
The conversation really starts with the difference in raster and vector. Long story short, raster will create visible pixels when printed large, vectors will print smooth and clean at any size. In the picture below, you can see that when zoomed in (or blown up billboard sized!) that with the vector, the logo still looks smooth. The raster will look jagged. That is the difference between raster and vector. So you want to be using a vector.
Can I have my logo be a Photoshop File? (PSD)
No, you shouldn't. PSD is Photoshop's native file format and is often used to edit raster files such as photos. Photoshop does support inserting vector graphics, but the fonts will be raster. This is not what you want. Also, you cannot upload a PSD file directly to a website without exporting it to another logo file format. If I see that a graphic designer has made a logo in Photoshop, I know right away that it is an amateur job.  A professional would use vector.
Logo Filetypes
The most common vector formats are AI, EPS and SVG. The most common raster format you should see is PNG.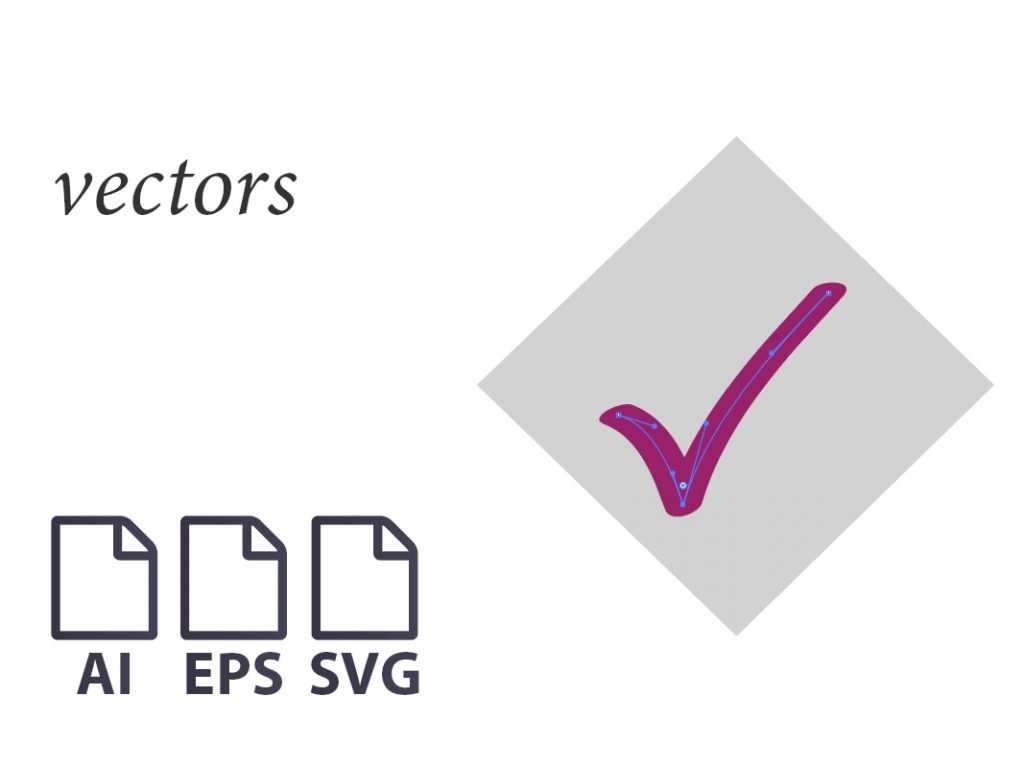 AI (Adobe Illustrator)
AI stands for Adobe Illustrator, a vector file created by the software Adobe Illustrator. This format saves all images, text, drawings in an editable format (unless converted to outlines). The other Adobe software can open an AI file and all professional graphic designers will have access to this software.
EPS (Encapsulated Postscript)
EPS stands for Encapsulated Postscript, a vector file type that saves and stores images, text, and drawings so that you can reopen and edit images at any time. Encapsulated PostScript is a vector format file designed to create high-resolution graphics for printing.
EPS files are indeed one of the preferred formats for print shops, advertising agencies. The dapper EPS file has nothing to do with Adobe Illustrator, which means other vector editing software can open and edit such files. The EPS extension is more of a generic file type (much like PDF) that can be used to open vector graphics in any design editor, not just the most common Adobe products. Unlike AI files, EPS can be opened with many different types of image management software and are easier to share than AI files.
SVG (Scalable Vector Graphics)
SVG stands for Scalable Vector Graphics. This file can be edited in not just Adobe software but also within opensource software. Unlike the Adobe proprietary formats, it is possible to have the logo on your website be in this format. Whereas you would need to export a different format from Adobe software. Using a SVG file in your website will mean it will automatically scale for different devices. The files are also very small.
PNG (Portable Network Graphics)
PNG stands for Portable Network Graphics. I recommend this format over the common JPG because it allows for a transparent layer. This means that the logo will be able to sit on top o f a background without having a visible border/edge. The PNG also seems to appear better at smaller sizes which is common on devices. As a bonus, a very high print quality 300dpi PNG will be smaller in filesize than a lot of comparable JPGS. For this reason, we see a lot of logos on websites be in the PNG format.
Using the formats
If the software you are using also doesn't allow you to host or import EPS, you will have to use an alternate logo file format. Note that you will not be able to open or insert your logo into any software, nor upload the EPS to your website or social media. You will want to be using an exported PNG, JPG or SVG.
Key take away
Ensure you get the correct logo filetypes (AI, EPS) from your logo designer. Remember that all other file formats can be generated from EPS. Some printing companies using older technology may require EPS files, so it is recommended that you obtain your logo in EPS file format from your designer. You'll need to create JPGs from an EPS or AI file, and your designer should do this for you. When they send you your logo, there should be a package of files. There should be EPS as well as web ready formats such as PNG. Each logo variation (colour, horizontal/vertical and CMYK/RGB) should have their own file.