Recently we did an interview with Nomadific. The article is about changing attitudes toward being a digital nomad. We are a great fit for the article because we have been at this whole digital nomad thing for a while now. Plus we have seen shifts in our attitudes.
A big part of our shifting attitudes has been the way we travel now. We've gone from having a home-base and travelling with our backpacks to now not having a home-base but travelling with all our worldly possessions. We each have a backpack and suitcase. Now we travel slower and take time to sit down and work as well as immerse ourselves in local culture.
It is interesting being part of digital nomad groups online as I can share my experiences. Of course, it is easy to forget how much I have learnt about living this way over the years.
Here is the questions and answers for the interview with Nomadific.
What is your full name?
Kassandra Bowers (soon to be Marsh)
Tim Marsh
My unique name on the internet is: Lakazdi, Tim's is: Eltimbalino
How long have you been traveling/nomadding for?
Since June 2014
What do you do for $?
I am a graphic designer. All I need is my laptop and wifi and I can be anywhere. I make documents and marketing materials for my clients.
Tim is a content strategist freelancing to a marketing company. He is also a commercial writer.
How has your lifestyle and attitude towards traveling/nomadding evolved over time? (Think about how often you change places, the types of places you seek out, what's important to you, what you have with you, etc)
At the start, with little money, every decision was about saving money. But now my decisions about where I stay are more based on whether or not I will have a comfortable place to work.
Before: We would choose a place close to all the sites/sights.
After: Now we position ourselves closer to the local suburban shops and a park to exercise in.
Before: I would try to see as many places as I could before my visa would run out. I went to 16 cities in 16 weeks.
After: I feel as though there is plenty of time to see everything. I spend all 16 weeks in one city. There are lots of benefits to doing it this way like we buy monthly public transport cards, get to know our favourite eating places, build relationships with locals, maintain stable routines.
Before: We used to have a homebase in Cambodia and would travel for a few weeks or a month at a time, several times a year. We would take only a small backpack each, leaving the rest of our worldly possessions in the apartment.
After: We no longer have a home base and fit everything into a backpack and suitcase each. Pros: we always have everything we want with us. Even our favourite kitchen tools, luxury bedsheets, electronic tech and artwork and decorations to make a place feel like home. Cons: before we buy anything, we have to decide what get's removed to make space.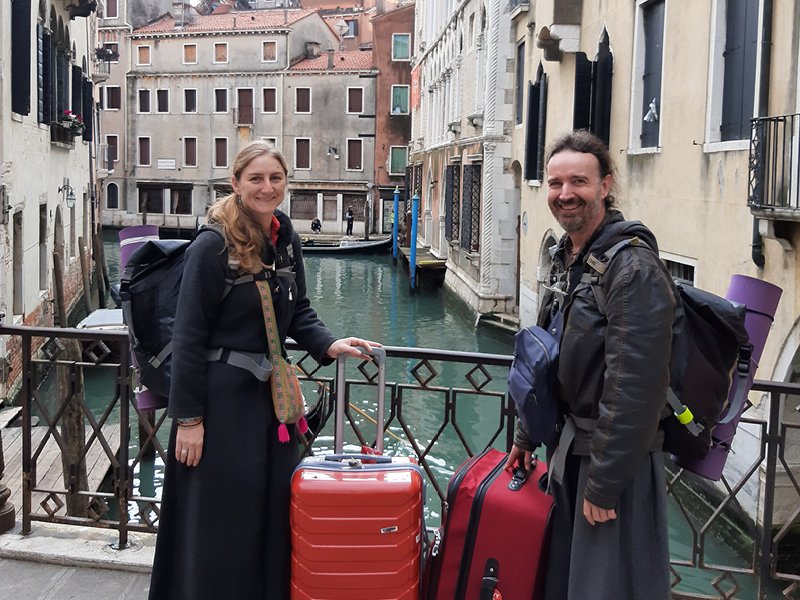 What are the best parts of traveling/being a nomad?
Every year lasts for a very long time because it is filled so new things and moments of amazement.
What are the hardest parts of being a nomad?
Being away from family. Particularly in hard times. I just booked flights to go back to Australia for a week to attend my grandmother's funeral that I found out about this morning.
If you could give one piece of advice to a new digital nomad, what would it be?
Don't think of yourself as a digital nomad. There are so many different ways to live on this planet and simply not staying in the one house does not define you or require you to fit into any other mould.
Do you see yourself continuing to travel for a long time? Why or why not?
Yes. At this stage we see no end to it. But at the same time talk about tiny house designs for when we are so old that our bodies can't keep up with our dreams.
---
Would you like to interview me? Let me know.