The bits that make an annual report design
Rest assured that whilst you put together all the financial reports and yearly achievements, Lakazdi will worry about the other stuff that goes into making an annual report. Things like page numbers, table of contents, a proper cover and section openers, how to style your tables, how to display your audit report, how to use graphs and other infographics to display data. The front part of the report will be a beautifully designed, magazine style document suitable for glancing by your shareholders.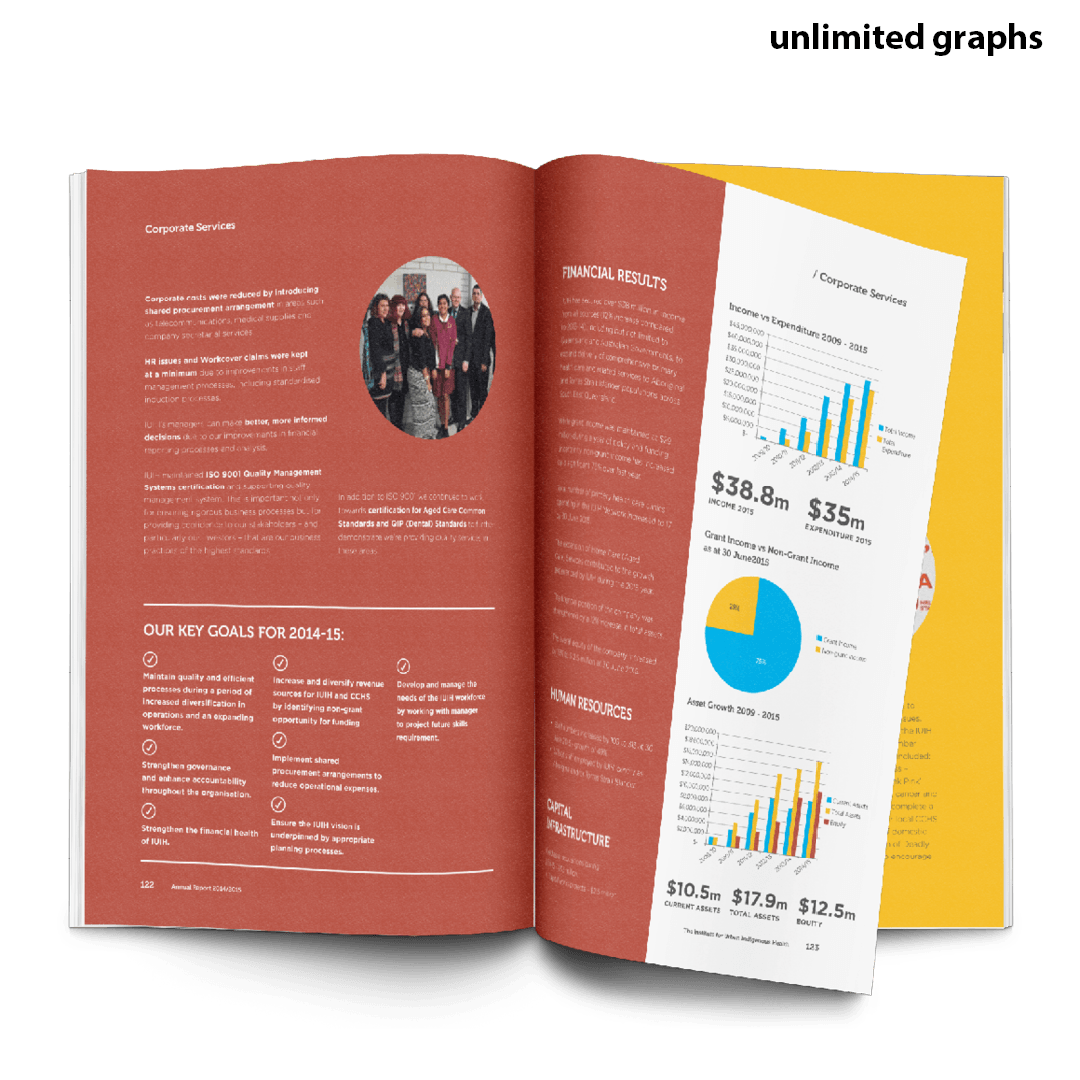 Built for print and the screen
When designing your annual report Lakazdi will make sure that it is print ready. This means you will get a file your printer will be able to print with no problems. It will print with crisp and clean images. And if you want to print to the edge, with trim marks (You can choose to not print to the edge to save ink, paper, trimming). You will also receive a PDF file that is built for screens. It will look good on both desktops and tablets. So this means it will have clickable links, TOC and websites. Making it easy for your readers. If you want, we can build in tabs down the side too. Your screen file will also be optimised for putting on your website and emailing to shareholders.
Headings, subheadings
These match your brand. As a standard, you will be given three heading levels. If you need any specific styles please let Lakazdi know and these will built in for you.
Bulletpoints, numbered lists and financial tables.
These are all custom selected by our designer to match your brand. Normally done in black and white to save on printing costs. Make sure that these are still highly readable with black on white offering the best contrast. But as seen above, you can use grey as part of the design. And you can always consider the texture of the words on the page. Above you can see that there is some two column and some one column to vary the texture of words on the page.
Dot points and numbered lists should add to but not distract from the design. Particularly in a financial annual report. These are also likely to be in black or grey so picking a shape that speaks of the brand is useful. Here is a huge range of options.
---
Lakazdi makes Annual Reports:
Annual Report Design inclusions:
Designed to be both print and screen ready in one document!
Print and screen PDF files. Print files are 300DPI with trim marks and screen file is optimised to send via email.
Unlimited tables, charts, graphics based on your needs
Price depends on page count
100% custom made using your existing branding (or revamping if needed)
Good looking cover page
Page numbers (starting after the cover page)
All interactive elements clickable (Table of contents, URLs, emails etc.)
Section starting pages
Includes both beautiful magazine style stakeholder section at start and the financial tables at end
Up to 30 stock images included
You will also receive all source InDesign files for future editing.