I am often asked to show my design skills. It makes sense. From seeing existing work, a potential client can see if I have the skills they are after. I am often surprised that this is the one job I've done that explains the most what I do: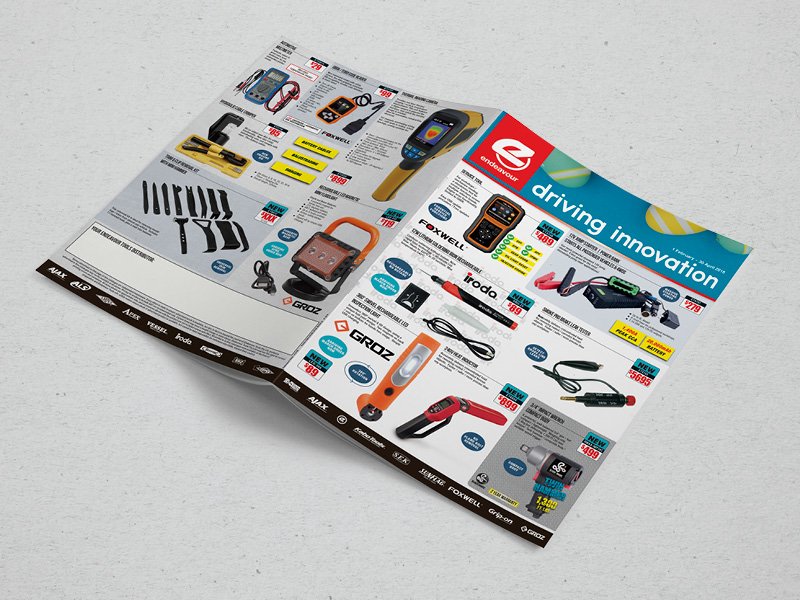 Catalogue design. You see, everyone has seen a catalogue. They are like magic. They come from warehouses. They are junk mail. They are so busy and full of information that surely you have to be good to make one. And there is certainly truth to this.
Even just explaining what I do to people. I show them billboards, workbooks, brochures, documents, reports but none of these are as real and concrete as a catalogue. It find it interesting.
Design skills
The biggest thing that makes a catalogue design a true test of skills is sheer amount of content on a page. There are prices, images, SKU codes and a write up. They have to be tightly squeezed in (please can we fit just one more item on the page) but look like they all have their own space. You can't just randomly place everything either. Keeping consistent spacing around everything and sticking to grids are crucial.
Data management
The bit that is magic and not clear to the untrained eye is all the data management. This catalogue spread started as a hand drawn outline with only SKU numbers. I was given a spreadsheet with all the product information and a folder full of images. Then the magic lies in matching everything up, including all the information that each image has and not making any mistakes. Lots of copy and paste. Lots of creating a basic product block and adjusting and moving them around.
Not one-size fits all
Sometimes the catalogue design requires that an item get featured. In these cases, you can use more images or the longer text description. So I make these blocks first and fit everything else around it. In a perfect world, there would be a simple basic template for each product and there would be no deviation from the template. But that is not the real world. The product blocks need to be flexible to handle a wide range of changes. And the designer needs to be able to make sure that all product blocks look consistent with the other items on the page.
If you need a catalogue designed, I would love to help you. Please tell me about your project.