Like all processes there are different stages in the design process. It is likely that every designer has their own process. But there will certainly be some consistencies between what most designers do.
There are certain steps that I follow for most projects. No matter how big or small. These are:
I will break down each step to give a better understanding of what this all means.
Initial consultation
We don't know each other yet. So of course, we don't know what each other are aiming for in terms of working together on a project. So, we start by talking through requirements. We start with an initial consultation. This does not need to be a long and formal process. Many of my clients email me what they are after with very clear instructions and ideas for visuals and I start.
But at the very start of working together there is a few things that need to happen so that we can have a good workflow. Some of these things are obvious such as making sure that we vet each other to ensure that it will be a good working relationship. You can check out my portfolio to see if my skills are what you are after. I can supply you with case studies and answer any questions you have.
I would also like to know some things about your company and what you are trying to achieve. The reason you have contacted me might be for a very specific item, say a 4-page brochure, but it fits into a bigger picture. I am great at big picture things, and the little details. Therefore, I will ask why you need that 4-page brochure. What is the intention, purpose, who sees it, why do they care? I will get good insights from you. I have been doing freelance design across many industries for ten years now. Before that at university, I studied related industries like marketing, sustainability, environment, leadership, business management. I know lots of things. I am also a life-long learner. It is likely that I will offer information and suggestions that I believe will help support your aim.
Brief
Once we have decided to work together, we need to write down what it is exactly that we are trying to achieve. Again. This is not necessarily a long and formal process either. I have a brief form and a campaign form.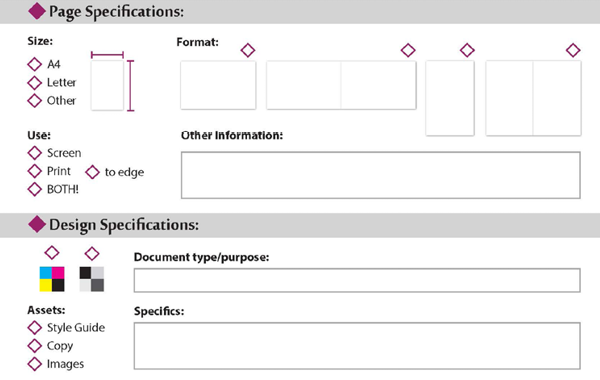 You can see from these I ask questions about page size, colour or black and white, what are the starting files. Or if it is a campaign, exactly what items are required. This is to keep us both on track. I know exactly what is required of me. What size, how many pages, when it is due by. All the things that make it easy for me to do what I do. It is also good for you to see the scope of the task and to double check I have delivered exactly what you required. Briefs are great.
Other information before I even start!
I know, this is already so much information. But there are some more things I need before I can actually start. You must share with me the CRM basics so that I know all the who, what, where information. Some of this content such as your contact details will go on certain marketing materials I create. We also need to sort out payments. For the first project we are both worried about payment. You are worried that I don't deliver, and I am worried that you won't pay. It is a reality that we are both facing. In order to mitigate some of this worry for both of us, for the first project, I will ask for 50% up front. The rest can be paid at the end.
So yeah, important to get these details at the onboarding stage. Luckily, we only need to do all this stuff once. Also, before I start doing any work, I need to get from you your branding. This is your logo, fonts, colours. After all these things are completed, I can start on the next stage, preliminary design.